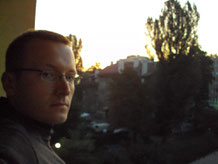 Please see below some previous and on-going work.  Thanks for visiting, and enjoy!
Camera Obscura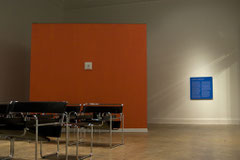 An immersive and interactive pin hole camera exhibit accompanying the Fall 2007 Annie Leibovitz + Ansel Adams photo retrospective at the Corcoran Gallery of Art, Washington, DC.
Wheeled Victory
A kinetic sculpture from a post-human future, commemorating the vision of the early Apollo mission planners.  An Arlington County Public Art Commission, Summer 2008.  Produced in a partnership with the Phoenix Bikes Youth Education Cooperative.
A Time Capsule for the Westover Library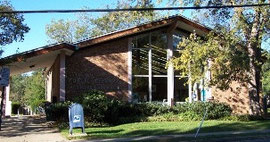 Saving my local library from the ravenous mists of time.  An archival and historic preservation project funded by an Arlington County, VA Public Arts Project Grant, Spring 2010.  More...
Long Distance Optical Resonator, LASER aiming test, version 2.1: Dupont Underground Interpretive Display
Feb. 20, 2012
Dr. Caywood and myself team up again to explore the historic trolley tunnels under Dupont circle in DC and set up the second (of many) iterations in our quest to recreate long vanished structures entirely using laser beams for delineation.  Video above shows the multiple laser resonance patterns generated from just one beam with homemade optical reflector panels at 2% of full power. Coming up next: Harvesting and splitting the pattern at full power.
Civic Engineering Company: Public Seating Associates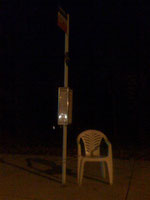 Standing for long periods while waiting for a bus is not as good as sitting down, especially for those with joint pain.  Every bus stop should have a seat. Local media and Arlington County, VA agreed and went on to install seats at most of the citizen installation sites.
Aerial Cartography Weather Balloon Platform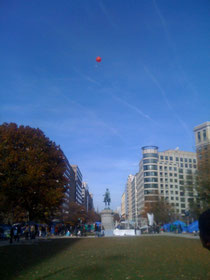 Nov. 18, 2011  Occupy Wall Street Encampment: Mcpherson Square, Washington, DC
Mobile camera platform for inverse documentation of protest encampment.  Visual data used as an overlay on existing online maps.  Small team effort led by Sam Pepple, digital cartographer.  Stability platform design, version two, by Luke Idziak.
Exhibit Lighting Design: DC Digital Capital Week, 24 hr. City Project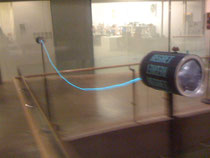 Winter 2008, Washington DC.
Electroluminescent lines used to delineate and illuminate urban conversation zone concepts during future city design event.
Long Distance Optical Resonator, Version 1: Historic Preservation Interpretive Laser Array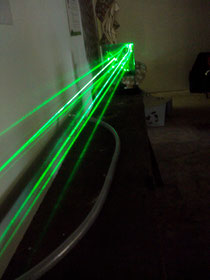 Nov. 10, 2011 Washington, DC
On exhibit at Fab Lab DC, a proof of concept laser grid formed using shaped mirrors to direct and maximize both stability and number of transits in a laser beam.  Experiment results allow the next stage to begin: the reinterpretation of a no-longer extant historical structure using lasers to delineate dimensions and scale.  A combination of Historic Preservation, Art, and Science, and a collaboration with Dr. Matthew Caywood, Neuroscience, MITRE.
Interactive Defense Insect Sculpture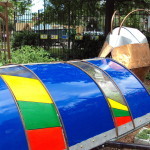 A cathedral carapaced creature to protect and enhance the community garden of the Washington DC Bi-Lingual Public Charter School.  Summer 2009.
Cthulu Triumvirate Wearable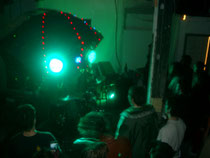 A wearable electronic skin to allow three people to act as one with sound responsive electro luminescence.  East Coast Soundspace tour, Winter 2008.
Simple Circuits DIY Workshop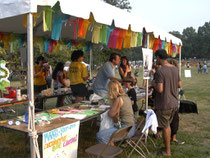 A public art workshop in creating personal wearable electronics and custom bicycle lighting. Planet Arlington Festival, Summer 2009.  An Arlington County Cultural Affairs Department Commission.  More...
Wearable Electronics Garment Design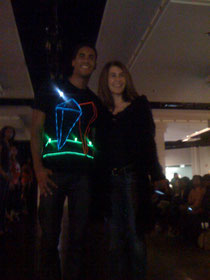 First Prize in the Crystal City Couture Runway Design Competition, Arlington, VA. Winter 2011.
An electronic garment utilizing electroluminescent wires and LEDs to delineate the bright lights of the little city.  
PROJECTS
IN
DEVELOPMENT...
A Proposed Method for the Capture and Consolidation of Orbital Debris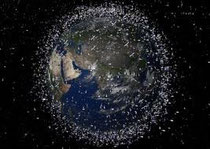 Recent sucess in alloying spider silk with titanium 1, combined with the highly maneuvarable MiTEx micro-satellite platform also tested with sucess recently, suggests for the first time a material and method for the collection of orbital debris for at least known orbit consolidation, if not eventual recovery for space based Historic Preservation interpretive efforts, or for reutilization by commerical space interests.  Bundled and consolidated debris could conceivably be used to provide shadow coverage for functional orbital facilities from radiation and other still free, debris.
[Lee, Pippel, Gosele, Dresbach, Qin, Chandran, Brauniger, Hause, and Knez. 24 April 2009 Science: Vol. 324 no. 5926 pp. 488-492]
Virtual Light Switches and Facility Controls

Many environments such as clean rooms in laboratories, production facilites, and surgery suites require a close to as germ and particulate free state as possible.  Switches and device controls can be a prime vector for transmission of tiny unsavories.  A solution can be found in virtualizing many of these command/control functions using sensors and technologies such as ultrasound-through-air impulsions.  Applications also include learning, involvement fostering, and physical therapy compound action controls in an assistive capacity for the disabled or those desirous of a customized environment.
Perceptual ARmor for Pedestrians and Cyclists
Augmented heads up displays and integrated braking system for human/auto cyborg devices.  Integration of existing motion tracking/object recognition software with high end auto HUD's to overlay visual enhancements on soft shelled road users.  Ex: Drivers will be less likely to behave aggressively if they perceive a person in a crosswalk to be a large, lumbering creature than a slow, small, time wasting ambulator.
Augmented Flora/Fauna HUD Overlays for Empathic Education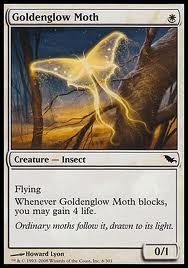 Why do people smash and kill harmless insects so thoughtlessly?  Perhaps if given some cues by which to think about smaller creatures in a new way, wonder and amazement would be the dominant impression rather than fear or disgust.  Proposed is an AR layer for wearable devices that will identify common insects with object recognition software, and using motion tracking software, overlay a colorful halo of light paired with information about the creature in question.  The wearer would learn something, be cued to pause and consider weather smashing in the little legged thing is necessary, and perhaps even draw comparisons to the nature of human body after examining the small machine in their target reticle.  If the insect (or plant) is identified as harmful, a red and black warning halo of light could surround the subject instead.
Scalable Roller Cargo Net

In development.  Details posted as patent application progresses.
ASSISTING
OTHER
MAKERS...
Gordon Kray Sculpture Studio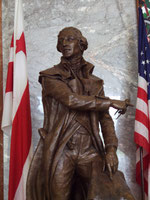 Chief Studio assistant to Washington DC sculptor Gordon Kray.
All stages of monumental bronze statuary creation.
Statue of Pierre L'Enfant, DC Arts and Humanities Commission. 2007-09.
Robert Cole Sculpture Studio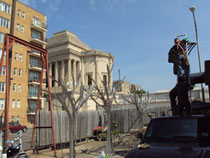 Washington DC, 2010. 
Large scale outdoor stainless steel and bronze sculpture creation.  Chief Studio Assistant: Luke Idziak.
Gorget Design Studio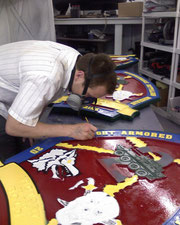 Chief Studio Technician and Developer of Technical Processes for Gorget Design Studio, Inc. 2007-2009
Designing and producing custom legends and monumental artworks utilizing hand craft and automated production equipment.
Development of art production processes and conservation and recreation treatments. More...
Interactive Designer / Sculptor Exhibit Technician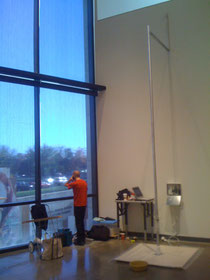 Washington DC, Winter 2010.
AU Katzen Arts Center,
WPA Exhibition
(and others)
Installation of a sensor driven, micro-processor controlled, gravity fed device for translation of GPS data through mechanical and hydraulic motion into physical data point plots.
Chief Sculptors Assistant: Luke Idziak
Robert Lindsay Sculpture Studio
Assistant to Arlington, VA artist Robert Lindsay for creation and installation of a Buckminster Fuller tribute sculpture commission in Crystal City as part of the Fuller life and times celebration.  Geodesic sphereoid construction with 360 degree external photo view skin.
Spring 2010.