Summer 2009: Interactive Giant Insect Sculpture for Community Garden Enrichment and Protection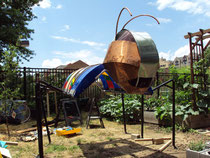 In early 2008, a client approached the organization with a seemingly insurmountable problem: How could a piece of garden sculpture be created to feed the imaginations of the school children for whom the community garden of the DC Bi-Lingual Public Charter School was a haven of growth and fun during the day, but also resist the depredations and violent impulses of the interlopers who made a stomping grounds of the garden after nightfall?  
When the call came, Luke A. Idziak and team sprang into action, designing and creating an insect based in part on an educational workshop led with the students of an agricultural class, and implementing their ideas into the final product. 
To nurture the community garden, which serves residents of the Columbia Heights neigborhood in Washington, DC a cathedral carapaced insect sculpture was commissioned by City Blossoms Consultants Inc. and designed by artist Luke Idziak to stand watch over a path and provide an immersive environment for those walking underneath and through the insect.  A barrel vaulted thorax utilizing stained and hand painted plexiglass ribs allows sunlight in, and provides a shelter from the elements. 
To defend against hooliganism and destruction of not only itself but the garden at large, the insect comes equipped with motion sensor activated lights which glow beneath its red eyes and serve to drive terror deep into the hearts of unsuspecting members of the trespassing criminal element during the evening hours.