Wheeled Victory, or The Cyborg of Interstellar Justice Spring 2008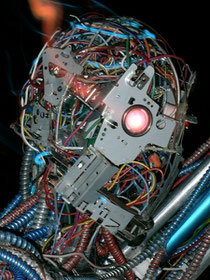 -- Like Athena bursting from the forehead of Zeus wielding an instrument of righteous justice, the figure of the cyborg leaps from the Earth for the stars, bringing with it the bicycle, on a mission to Universe. 
-- Representing a future in which the traditional biological human form is preserved by continued use of the efficient and fully engineered bicycle artifact; the figure shows the humanizing effect of the bicycle through time and space, and reveals a vision of the future in which the tools that we shape end up shaping us. 

--The sculpture was commissioned as a public art project by the Arlington County, Virginia Cultural Affairs Office in a partnership with the Phoenix Bikes non-profit after school education program to combine the working arts with skills from bicycle mechanics and foster creative thinking, making, good junk salvage, and reuse.  
-- Influenced by previous work on an actual spaceship by the designer, the sculpture is a testament to the timeless beauty, simplicity, and utility of the bicycle.  It also serves as an homage to the forward thinking planners of the Apollo Moon landing mission who initially planned on the astronauts using bicycles for roving duty on the Lunar surface.
-- The main control panel is an oscilloscope from a decommissioned Navy submarine.  Mounted on the back of the figure, housed in a sealed titanium tube salvaged from a nuclear power plant, is a ten year time capsule containing letters, pictures, and predictions for the future from all those who worked on the sculpture.  The entire sculpture is entirely mobile and can be ridden about at will.
-- The human scale figure is composed primarily of electrical wiring and conduit scrupulously gleaned from the trash by its makers.  Electro-luminescent wire and LEDs, along with battery packs and control boxes compose the organs, nervous system, eyes, and cortex. On display at the Planet Arlington Festival, and most recently in the atrium of the Arlington County, VA Central Library for the 2009 Recycled Art Show.  
"Ad Astra per Hominem" [To the Stars, but as Humans]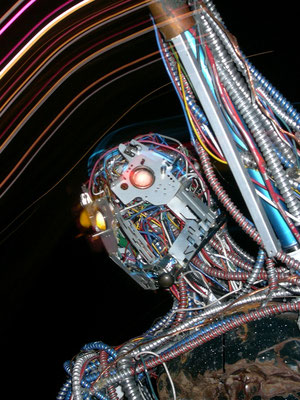 Project Photo Gallery, click them to enlarge